Welcome to Saint Gilbert



Office Hours: Monday - Friday 8-4
847-223-4731
301 E. Belvidere Road
Grayslake, IL 60014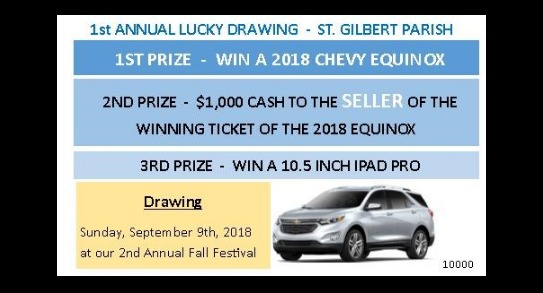 You are invited...
Eucharistic Adoration on Wednesdays
6p-9p Saint Gilbert Chapel
Mass of Thanksgiving for Ordination to the Priesthood -- Fr. Christian Shiu
Sunday, June 10th, 6p Mass
Find Your Greatness -- Four habits that will transform your life, Featuring Dr. Allen Hunt (A Dynamic Catholic Event)
October 13th, 9a-1:30p
=======================================
Pre-school through Grade 9
Classes in session
Pre-school through Grade 8
Accepting applications for the 2018-2019 school year.
Camper & Volunteer applications
Someone is gonna win! Saint Gilbert Lucky Drawing 2018! You'll find a sneak preview from last weekend on our face…
twitter.com/i/web/status/9…
Alleluia! St Gilbert parish congratulates Tom Biegel (and his family) as he begins serving the Church as an ordaine…
twitter.com/i/web/status/9…
Pray for our Confirmation candidates as servant hearts are readied to receive the Holy Spirit this weekend
@StGilbertChurch
!